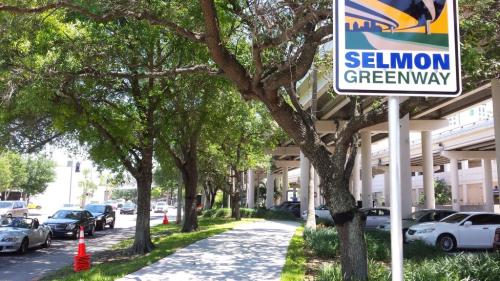 First we had Bayshore Boulevard's 4.5 miles of unbroken pedestrian pathway. Then the Tampa Riverwalk's final major section opened in March, created another 2.5 miles of biking, running and walking space through the heart of the city.
Now comes the newest addition to Tampa Bay's growing network of biking and pedestrian trails: The Selmon Greenway.
The Greenway opened last weekend amidst the fanfare, hubbub and hoohaw of our first RiverFest. We'll forgive you if you missed your chance to make an inaugural ride from downtown to Ybor City.
But there's nothing stopping you now.
So find a bike and hit the trail.
The Selmon Greenway runs nearly two miles from its starting the Tampa Riverwalk to Adamo Drive and 15th Street on the south side of Ybor City. It runs in the shadow of the Selmon Expressway for the entire length.
Expressway officials point out that the trail offers shade in the summer and shelter from rains, but there are still a few bugs to work out, as Brendan McLaughlin from ABC Action News discovered when he visited the project earlier this week.
There a plans already in the works to add plantings along the path and make the greenway as green as it promises.