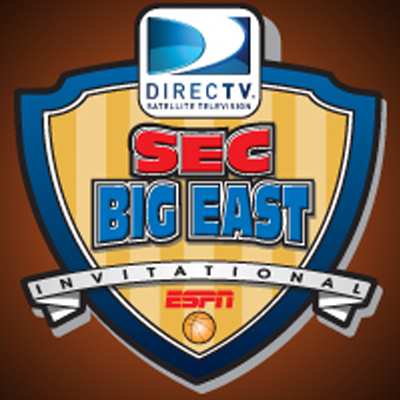 Hey everyone!  You may have read something about this on the Sports Blog, but since we try to bring you the best Tampa Bay area events on this blog, we thought we'd mention it too! 
The SEC/Big East Invitational Tips off Tonight in Tampa Bay...that's right, amazing basketball action is taking place tonight at the St. Pete Times Forum. 
Men's college basketball returns to the St. Pete Times Forum on tonight with an action-packed doubleheader featuring four top tier programs: Florida, Syracuse, Mississippi State and DePaul.  
DePaul will take on Mississippi State at 6:30 p.m. on ESPN2, followed by #7 Syracuse against #10 Florida at 9 p.m. on ESPN.
The undefeated Florida Gators currently rank #10 in the AP Top 25, while the also undefeated Orangemen of Syracuse currently hold the #7 spot drawing the national spotlight to this highly touted matchup. 
Mississippi State (5-2) and DePaul (5-2) also look to surge into the top 25 with big victories.
The Florida Gators will be making their fifth appearance in the building since 2003.  UF reached the Second Round of the 2003 NCAA Tournament at the St. Pete Times Forum, picked up non-conference wins in 2006 and 2007, and reached the quarterfinals of the SEC Tournament at the building in March. 
Meanwhile, Mississippi State will make their return to Tampa for the first time since winning the 2009 SEC Tournament Championship.
Fans interested in attending this exciting basketball doubleheader at St. Pete Times Forum can purchase tickets online at www.Ticketmaster.com or charge by phone by calling the St. Pete Times Forum box office at 800-745-3000. 
And of course, if you want more information on the tournament, visit www.SECBIGEASTINVITATIONAL.com. 
If you make it out there, have a great time and let us know how it was. 
And keep checking back here as we'll continue to bring you the best things to do in Tampa Bay and other Tampa Bay entertainment options.