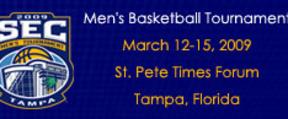 Ok gang, as far as Tampa Bay area events, this one take the cake!  We mentioned it last week, and we are here to give you more details about the 2009 SEC Men's Basketball Tournament coming to Tampa on Thursday...and the fun continues all the way through Sunday night!  Tampa will host the 2009 SEC Men's Basketball Tournament for the first time in its history this week, bringing the event back to Florida for the first time since 1990. 

Now as a Gators grad (insert shameless Gators plug here), I can't tell you how excited I am that all 12 SEC schools will face off in this post-season tournament that not only crowns the 2009 SEC Champion, but serves as a spring for entry into the 2009 NCAA Tournament.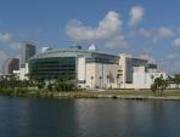 The excitment takes place at the St. Pete Times Forum and attendees will get much more than on-court action.  You'll have to stop by the Dr Pepper SEC FanFare, which is a 100,000-square-foot attraction offering interactive games and even chances to meet SEC Basketball Legends.  Plus, there'll be concerts and more to participate in. 

And, there are still limited public tickets and Corporate Contributor VIP Tournament Packages available.  So, if you're interested in those, contact Blake Guthrie at 813-342-4075 or BGuthrie@VisitTampaBay.com for more information about tickets and corporate hospitality packages.

Now, we'll continue to bring you updates about the games, events and activities as the week continues, but head over to www.SECTampaBay.com for more details about the 2009 SEC Basketball Tournament, as well as about the FanFare. 

If you already have your tickets, let us know which games you are going to, and what your predictions are.  Or, if you have a favorite team, let us know now...and share your predictions and why you think your team is going to win! 

Until next time, do your stretches, run some sprints, and keep checking back for more udpates about great things to do in Tampa Bay, including your very own Tampa Bay tour of the SEC Basketball tournament!