ITS AWESOME BABY!!! DIPSY DOO DUNKAROO!!! Okay so that was my Dick Vitale impression, albeit a poor one! But you really can't help but be excited around here as the Tampa Bay community gears up to host the
SEC Championship
starting tomorrow.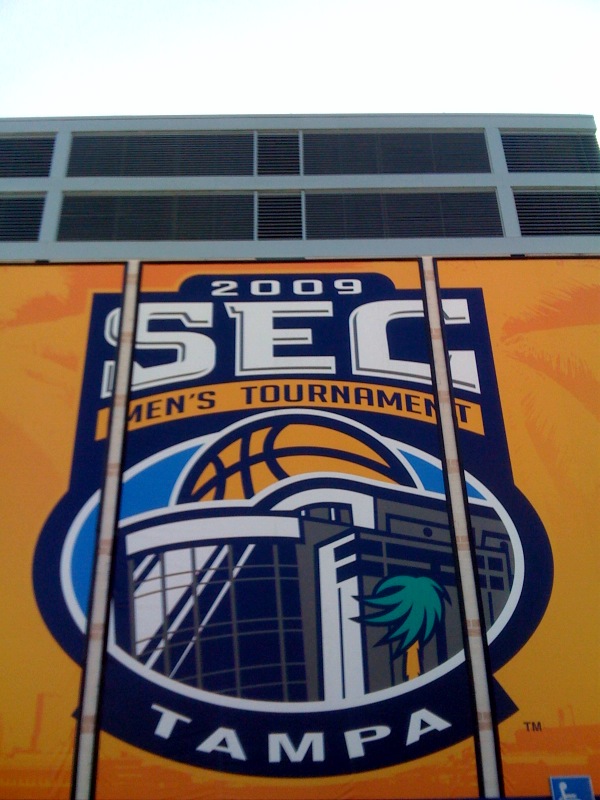 I was just over at the forum to give the area a quick Jerm inspection and the crews are working hard and making the finishing touches, while looking forward to a great event. Everywhere you go its SEC all over the place which should translate to SEC fans feeling right at home as they pile in to root for their local schools, or against their fiercest rivals!
When you get there tomorrow SEC fans be sure to make note of the steps, as they are themed with the event. Yes I know what you are think, and its true that Jerm is easily impressed, but what can I say...I AM EXCITED. Seems like only last year around this time we were gearing up for for Women's Final Four, and now we are at it again! 
Part of the reason that I am amped about this event is the "home" factor, as this week I get to see thousands of my Mississippi brethren come into town to root on the Mississippi State Bulldogs and the Ole Miss Rebels. Unfortunately we won't see a scenario that involves an all Mississippi final, but I know our guys will give it their all out there this week.  You can rest assured Jerm will be out at the forum for the a few games throughout the week and I invite everyone else to come out and support the event and show everyone how Tampa Bay does it!
If you are looking for a
schedule of games
throughout the week, be sure to check out the
www.SECTampaBay.com
 website for all of your traveling and visitor needs.
See you at the games!