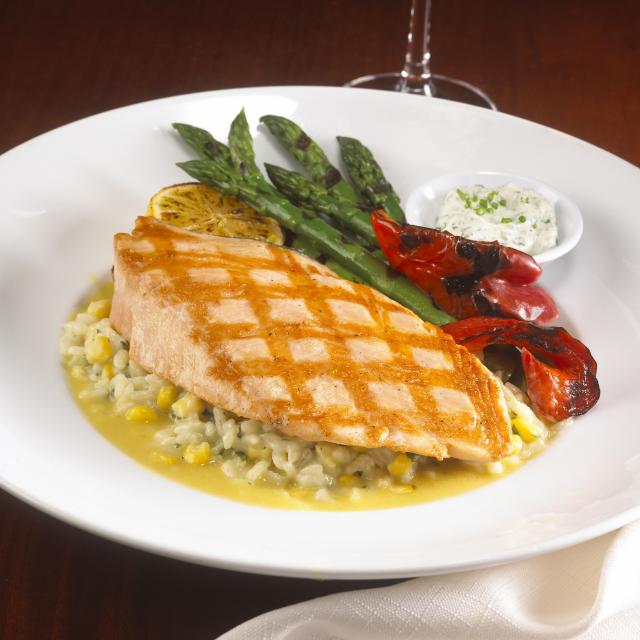 Hey everyone.  Travis here with some news that's going to make your mouth water...straight from our friends at Seasons 52!  I'll stop holding out and get straight to it -
Seasons 52 is providing guests with a prized seasonal offering of one of the world's best-tasting and nutritious varieties of wild salmon – Copper River Salmon. Available for lunch and dinner, Seasons 52's Grilled Alaska Wild Copper River Salmon is served over summer corn risotto with roasted asparagus, grilled red peppers and dill mustard sauce.  
With a limited season of just three to four weeks nationwide, the salmon will be featured on the Seasons 52 menu through July 4. And in case you haven't noticed, that's a photo of the dish that your looking at with this blog!!!!!!!!!
Beginning in May, the first salmon of the season make their way up Alaska's Copper River, a swift, 300-mile stretch of glacier-fed water riddled by hundreds of rapids, to spawn and lay their eggs. As they travel upriver, the salmon store extra fat and oil in order to survive the long trip, making this species high in beneficial omega-3 fatty acids, which many experts believe contributes to heart health.
In addition, Copper River Salmon provides an excellent source of protein, as well as other nutrients,making it an ideal addition to the Seasons 52 menu and reflecting the brand's reputation as a forward-thinking restaurant concept that is "right for the times," offering guests a fresh dining experience that enables them to celebrate living well.
And for those who enjoy a good glass of wine - to complete the meal, Seasons 52's Master Sommelier George Miliotes suggests two varietals that pair well with the Grilled Alaska Wild Copper River Salmon. From Seasons 52's diverse international selection of over 100 wines, at least 52 of which are available by the glass, Miliotes recommends Markham Vineyards Chardonnay or Schug Pinot Noir as the perfect complement to the dish's rich, fresh flavor.
So, get your appetites ready and make your reservations now!  You can bet you'll see me there.  And as always, keep checking back for more great things to do in Tampa Bay and other Tampa Bay Entertainment (and dining) options!