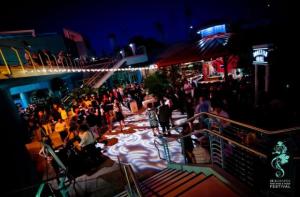 Hello there folks! Jerm here with another update for you on one of my favorite annual events coming up this weekend!
Sea Grapes Fine Wine and Food Festival is an elegant evening benefiting the Florida Aquarium's education and conservation programs including sponsored admissions for underserved youth, sea turtle rehabilitation, seahorse conservation and coral farm propagation.
Be prepared to enjoy a fun night with great people, food, drink and music in the form of :
More Than 100 Wines Provided By Total Wine & More
Cuisine From 25 Premier Bay Area Restaurants
Unique & Exciting Auction Items
Enjoy Live Jazz & Entertainment Throughout The Aquarium
Explore All Aquarium Exhibits
Now as always, we got you covered for a chance to win a pair of tickets to this awesome event! All you gotta do is play along with us in some trivia to be entered to win!
If you have never played trivia with us before, don't worry as its pretty simple! All you have to do is answer correctly the three trivia questions below on Facebook or Twitter and you enter yourself in for a chance to win the tickets!
Enough of my babbling, here are the trivia questions:
True or False: Lisa Casalino and the Vodkanauts will headline the entertainment at this year's SeaGrapes Festival?
True or False: The VIP Connoisseur's Club early admission begins at 6:00p.m.?
This delicious cupcake maker has two locations in the Tampa Bay area and will be supplying some sweet treats at this year's SeaGrape's Festival?
Okay folks, there you have it! I suggest you get to answering, as we'll be posting the winners later this evening. And even if you don't win today, this is definitely one event you won't want to miss so be sure to purchase your tickets!