Hey everyone!  We just got another guest blog from our friends at the Patel Conservatory that we wanted to share -
Guest blog:
Got a few minutes? Two minutes, to be precise? If so, you might be a big winner at the Straz Center's Patel Conservatory! The Patel Conservatory is giving opportunities to talented would-be performers by offering scholarships for 2012-13 performing arts classes, and basically all you have to do is upload a two-minute video and fill out an application form.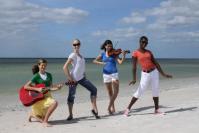 To compete in the Two-Minute Video Scholarship Contest, simply submit a two-minute video of yourself performing in dance, theater or music before Aug. 17. Just upload the video to a YouTube account and submit the link – along with a completed application form – to patelconservatory@strazcenter.org with a subject line of "Scholarship Contest Submission." Application forms can be picked up at the Straz Center at 1010 N. W.C. MacInnes Pl., Tampa, FL 33601 or obtained online here.
Winners will get to enroll in a Patel Conservatory class for FREE.
In addition, applications are being accepted through August 6 for financial aid for 2012-13 fall classes.
More information about financial aid, the contest and fall classes, is available at www.patelconservatory.org and by calling 813.222.1002.
Thanks again to the Patel Conservatory for sending us this information.  Good luck to everyone!  And we'll see you back here for more great things to do in Tampa Bay and Tampa Bay area events.