Hi everyone! Sally here from the
Henry B. Plant Museum
and I wanted to let you know that Santa Claus is coming! Experience the Holidays of the Gilded Age with a tour of rooms adorned with authentic Victorian-style trees, vintage fashions, antique toys and fanciful ornaments.
Give a child the experience of talking with Santa while taking in all the magic of a Christmas wonderland.Santa Claus will make his annual visit to the Victorian Christmas Stroll on Wednesday, December 23rd from 10am-1pm.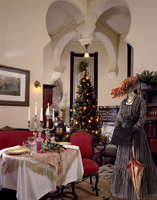 Complimentary with your Stroll admission; Santa will sit in the authentic Writing and Reading Room of the Tampa Bay Hotel and listen to children's requests. You may bring a camera to commemorate this unique occasion, but remember no "flash photography" in the Museum.
By recreating Christmas at the 1891 Tampa Bay Hotel, the essence of an old-fashioned holiday is observed and honored. during the Victorian Christmas Stroll holiday event, complimentary spiced cider and savory cookies will be served on the veranda, and soloists and ensembles will perform music for our merriment each evening.
Admission is $10 for adults and $5 for children, 12 and younger. Discount Days are Mondays and Tuesdays, December 1, 7, 8, 14, and 15 with admissions reduced to $6 for adults and $3 for children. Group tours are welcome also! For more info, feel free to contact me at shhifke@ut.edu!
That's it for now, but be sure to stay tuned in for more Arts and Culture in Tampa Bay updates from your friends here at the Henry B. Plant Museum!