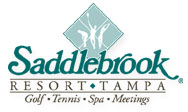 The
Saddlebrook Resort
, located in North Tampa, is now offering meeting planners an end of the year deal that cannot be overlooked. If you book your next meeting to be held at Saddlebrook during October, November or December of this year, you get to choose your own concessions from the following list:
10% Master Account rebate
Suite upgrades for everyone
50% off Golf
4th weekend night free
Comp one-hour welcome reception
10% discount on A/V and airport transportation
50% off team building event
One free coffee break
50% attrition allowance
1 per 35 comp rooms credited to Master Account
Complimentary parking
15% discount on retail purchases and spa services for all meeting attendees
In order to enjoy these concessions, your meeting must actualize the following room nights:
25 rooms per night for 2 nights- choose 3 concessions
50 rooms per night for 2 nights- choose 6 concessions
100 rooms per night for 2 nights- choose 9 concessions
200 rooms per night and above for 2 nights- receive all 12 concessions!
Saddlebrook is an 800-room (425 suites) golf resort that offers an unlimited amount of on-site amenities to its guests. The resort sits on 480 acres of pristine land which includes two Arnold Palmer signature golf courses, an on site, full-service spa, 45 tennis courts, sports village, fitness center and Superpool. And I can't forget to mention the 34 meeting rooms totaling 95,000 square feet of flexible meeting space. This place has it all and much more, and with this fantastic deal, meeting planners have the chance to plan their meeting there under even the tightest of budgets.
Check out the resort's
Web site
for more information or contact a Tampa Bay & Company
sales staff member
to book your next meeting at this stunning property. Thanks for stopping by!