Lisa here with a fun update on Tampa Bay Area Events!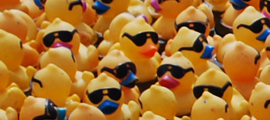 The 2010
Lucky Ducky Derby
is coming to Tampa! Last year almost 20,000 ducks floated down the Garrison Channel to help fight hunger in Tampa Bay. This years event is Saturday, December 4th, and will again take place at the Garrison Channel. The duck drop will be at noon, and the winners will be announced at Celebration Park on the North side of the Convention Center.
One might ask,  how do I participate? The answer is simple! For just $5 you can
adopt one
cute little yellow rubber duck and send him racing down the channel (have I mentioned my unusual love for yellow rubber ducks? No? Well I love them, and the more unique the better!). Of course there are prizes you can win such as tickets to the Super Bowls with air fair.
Sponsorship opportunities
are also available. They have five different levels of sponsorship. There is the Mallard Downs level for $500 with name recognition on LuckyDuckyDerby.org and up to 250 duck entries. The Feathermont Stakes for $1,500 with name recognition and up to 750 ducks. The Quackness for $2,000 that includes logo/link on the Lucky Ducky website, an opportunity to display your banner at the event, and up to 1,000 ducks! Then there is the Swim for the Roses for $5,000 which includes everything I mentioned before plus your logo on all the print advertising and up to 2,000 ducks. Lastly there is The Duck Crown at $10,000. This includes everything plus a speaking opportunity, and up to 3,000 ducks.
Ducks are cute, and fun to watch float in water, but what are they raising money for? The Lucky Ducky Derby is raising money for Feeding America Tampa Bay. Feeding America is the largest domestic hunger relief organization in the country. They have a network of more than 200 food banks and they work together to get food to hungry Americans. Feeding America Tampa Bay provides 400,000 people food in West Central Florida. 
I will certainly be there rooting on the ducks, so if you are looking for What to Do on December 4th this is it! 
Keep checking for more fun Tampa Bay Area Events!