Lisa here with a fun Tampa Event happening on 10.10.10. The Florida Aquarium is hosting a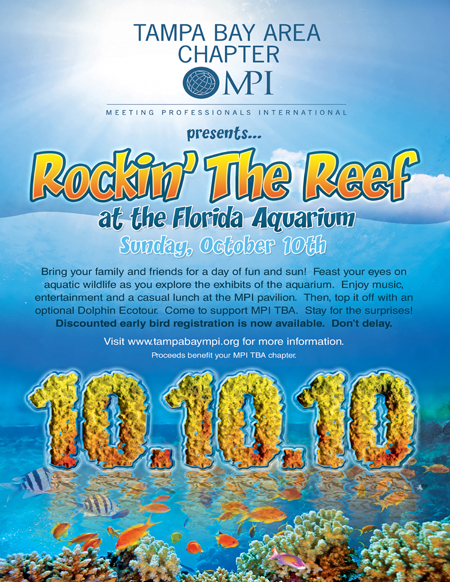 fundraiser called
Rockin' the Reef
. This laid back family affair, will benefit Meeting Professionals International. Meeting Professionals International (MPI for short), has been in Tampa since 1984, and they have over 380 members. The goal of MPI is to educate meeting planners, while bringing them together to elevate their careers and the entire meetings and events industry here in Tampa Bay.
Rockin' the Reef will include a casual lunch, cash bar, music and of course some Tampa Bay Entertainment. They will also be raffling off prizes like a massage, restaurant gift certificates, dinner cruises, and even a personal concierge! All of those prizes sound good to me!
Rockin' the Reef will be from 11am-5pm at one of the best Tampa Florida Attractions around! If you haven't been to the aquarium this is a perfect opportunity to enjoy a fun family afternoon.
Registration
is going on now, and there are early bird discounts, as well as MPI member discounts. Early bird registration for MPI members is $75 for a Fun Four Pack. Included is 2 adults and 2 children admission. In order to qualify, one of the adults must be an MPI member, and it is only $10 more per person to enjoy the dolphin ecotour tour. Hurry and register before October 5th for this amazing discount! Late registration for the same package is $90, and the ecotour is $15 more per person.
If you are not an MPI member you can come too! The Fun Four Pack for non-members is $85, and the ecotour is an additional $15 per person; this is of course if you
register
before October 5th! The late registration for non-members Fun Four Pack is $100 and the dolphin ecotour is an additional $20 per person. There are also individual tickets available, and prices on those vary. I almost forgot to mention the complimentary parking for EVERYONE attending!
What a unique opportunity to enjoy a great day exploring Tampa and all it has to offer! Stay tuned for more fun and exciting Partner events!