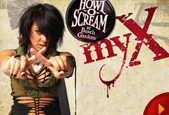 Hey there gang! Jerm here to tell you a story about my visit to this year's
Howl-O-Scream
event over at
Busch Gardens Tampa Bay
, this past Friday night for the annual bleed-up event!
I was one of many local Tampa Bay are social media followers invited by the gang over at Busch Gardens to their 2nd annual "Bleed-Up" this past Friday night.
For those of you who don't know, a Bleed-Up is basically a Tweet-Up with a Howl-O-Scream twist on it! And if you don't know what a Tweet-Up is, its basically just a meeting or event where a bunch of like minded Twitter followers like myself meet-up and interface with one another.
Don't get it confused though, as this was no ordinary Tweet-Up, as the crew from Busch Gardens always puts on a show for its invitees! Upon getting to the park, we had to check in and get our myX t-shirts. It was a great night to be out and about as there were clear skies, a nice breeze and an excited group of people (myself included) ready to get in and enjoy the park!
Upon entering Club X, which is where the party was, we were treated to food and drinks before the Sliders came out and performed for us! If you haven't been yet, the Sliders are the guys and gals that are located throughout the park that go around sliding and trying to scare the crap out of you! I saw them scare plenty of people that not...not me of course, because I am a rock (or so I thought)!
After their performance, we were treated to another live onstage performance, before Sylvie and myX performed! As expected Sylvie put on a great show and got an awesome ovation from the crowd! Oh and by the way, Sylvie is quite the looker, so if you see her around town or at Busch Gardens, be sure to tell her Jerm said hello!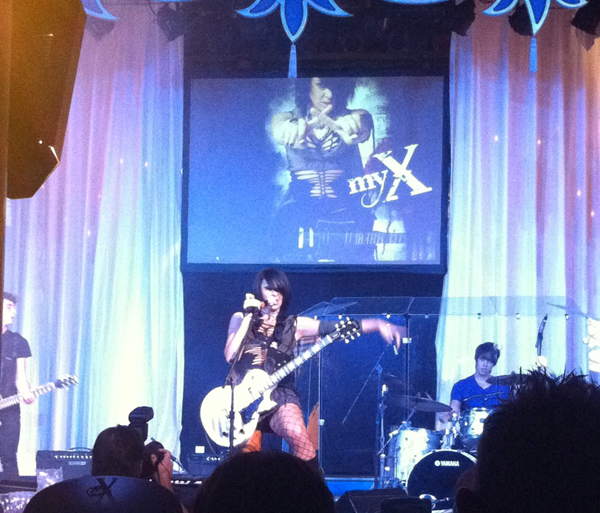 Sylvie was even gracious enough to hang around a do  a few giveaways for the crowd as well as take some photos. After that everyone was released out into the park to enjoy all of the scare zones and houses!
I always pride myself in being a rock at these events and not letting anyone scare me, but I must admit that while
walking through one of the many scare zones
, I was a victim of a scare by one of the performers.
Its amazing how Good these guys are at camouflage and not being seen. I swear I had my head on a swivel and thought I was invincible, but alas I was not. So word to the wise, even the most hardcore person will probably be scared out of their mind once or twice, so if you scare easily, I advise you to bring a change of underwear! Just joking about the change of underwear, but you get the point.
Beyond the scare zones, you have a
number of the houses
to choose from. We were able to make it through the Extreme Rush House, Taste of Blood, Trapped in the Walls,
and Death Row Vengeance, and I can highly recommend them all! Everyone was also purring about the "Alone" house, but I will admit that even I was too chicken to try that one out.
All in all, Howl-O-Scream is something you gotta go and experience for yourself, so you can be scared out of your mind a few times like I was! Best part about all of this is that in between houses and scare zones, you can still experience all of the rides like Sheikra, Kumba, Gwazi and all of the rest of the park, so what the heck are you waiting for!
That's all I got for now, but be sure to stay tuned to more updates from me and the rest of the Tampa Bay team on things to do in Tampa Bay!