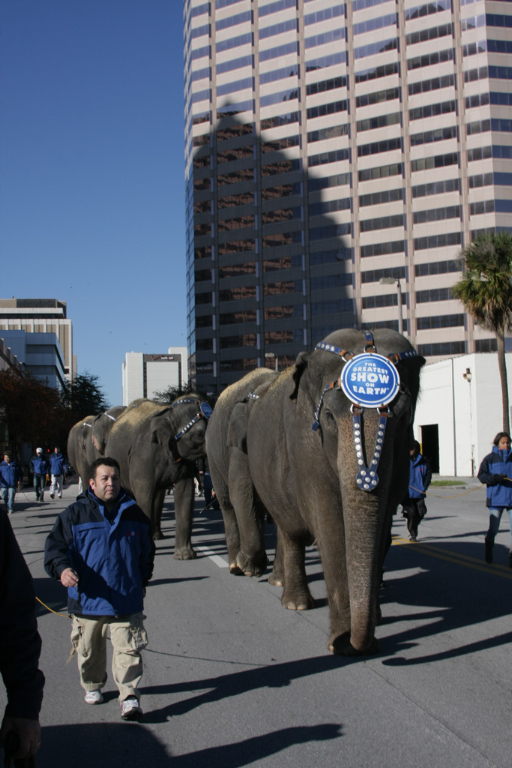 Hey everyone!  We have an alert for all of you...the famed Ringling Bros. elephants (and a bunch of other animals) will be walking through the streets of downtown Tampa TODAY!  You read that right...they are WALKING through downtown Tampa this afternoon, so get out of your offices and take a look!  Here's the info:
The Ringling Bros. and Barnum & Bailey® Circus returns to the St. Pete Times Forum today!  Fantastic photo opportunities will be available as the Ringling Bros.' majestic animal performers march from Union Station to the Forum to kick off Ringling Bros. Fully Charged!  – the 141st edition of The Greatest Show On Earth®.
The Ringling Bros. animal performers will unload at 2p.m. with the walk will beginning at 2:30p.m. Animals will unload at the railroad tracks on the corner of Nuccio Parkway and N. Nebraska Avenue, next to Union Station.  They will walk west on Cass Street, turn south (left) on Morgan St., east (left) on Channelside Drive, in front of the Forum, turn south (right) on Old Water Street, and parade around the back of the arena to the Animal Open HouseSM.
HOW COOL IS THIS????!!!!!
Of course we have to tell you about the new show (making its world debut in Tampa Bay!): Ringling Bros. and Barnum & Bailey® Presents Fully Charged, the all-new, 141st edition of The Greatest Show On Earth®, at the St. Pete Times Forum from January 5-9, 2011. The Ringling Bros. will super-charge audiences with acts of breathtaking dare-devilry, superhuman stunts and never-seen-before performances that will jolt the imaginations of Children of All Ages! Clowns from the world-famous clown alley will charge funny bones, while megawatts of thrills will explode out of the ring, including The Human Fuse, who rockets across the circus skies, igniting the power of the people.
Show Times:   
Wednesday, January 5 - 7:30 p.m. 
Thursday, January 6 - 7:30 p.m.
Friday, January 7 - 7:30 p.m.
Saturday, January 8 - 11:30 a.m., 3:30 p.m., and 7:30 p.m.
Sunday, January 9 - 1:00 p.m. and 5:00 p.m.
Ticket Prices:   $15, $20, $25, $35 (VIP), $55 (Front Row), $85 (Circus Celebrity)
Tickets are available at are available at www.ringling.com and www.Ticketmaster.com, or by calling 800-745-3000 or the St. Pete Times Forum Box Office (phone: 813.301.2500). For group ticket sales and information, call 866-248-8740.
so get your tickets now!  And keep checking back here for more great things to do in Tampa Bay and other Tampa Bay area events.