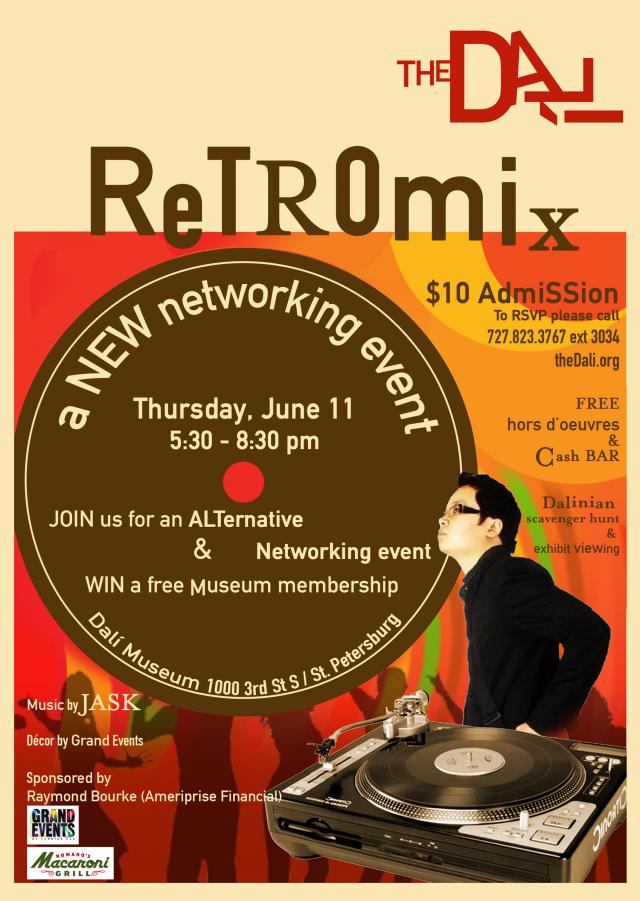 Hey gang!  Just dropping a quick line about a cool new networking event at the Salvador Dali Museum tomorrow night. 

It's called Retromix and it's only $10 to get in!  Plus, there'll be FREE hors d'oeuvres and a cash bar.  Not to mention the Dalinian scavenger hunt and an exhibit viewing. 

I mean, the admission is worth entrance in to Dali alone...let alone the networking, food and drinks. 

You might even win a free museum membership...but you have to be there to do that! 

So, make sure you head out there to experience the Dali and take part in this opportunity.  In case you didn't know...here's the Dali's address: 1000 3rd Street S. in St. Petersburg.  And if you have any questions, call 727-823-3767 (ext. 3034) or head over to www.theDali.org. 

Until next time, keep checking back for more great things to do in Tampa Bay, and other amazing Tampa Bay entertainment options! 

Hopefully I'll see you out there.