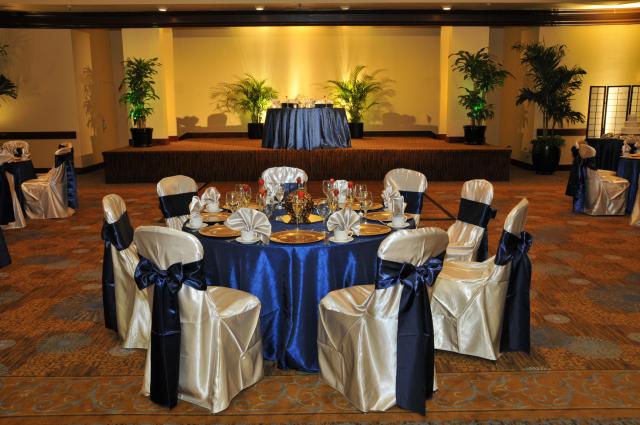 Hey everyone.  Travis back with some Tampa Bay hotel information.  There are some exciting improvements happening at the Doubletree Hotel Tampa Westshore...after some already exciting improvements! 
Following the $13-million renovation of guest rooms, public areas and outlets completed in September 2009, the Doubletree has just completed a renovation of their Bay Pointe Ballroom, Lake Forest Ballroom and 5,000+ square feet of pre-function space. 
This includes new meeting room carpet and paint color schemes, which provide a fresh, contemporary look that is consistent with the other newly renovated areas of the hotel.  Ballroom renovations also included new,    state-of-the-art air walls, reinforced sound proofing and a new ventilation system.
And for all of your event planners out there (in case you haven't already worked with these folks) the Bay Pointe Ballroom and Doubletree Tampa Westshore's function space is a favorite, as the hotel offers:
• 9,100 square foot ballroom is among the largest in Tampa Bay
• Bay Pointe Ballroom offers a permanent, recessed stage
• All function space is located on the 1st floor
• All meeting rooms are completely free of obstructions
• Generous pre-function space with natural light
• Fixed registration counter with event planner office
• Total of 14 separate meeting rooms all located on the 1st floor
And in case you didn't know much about the hotel, here's some background info about Doubletree Hotel Tampa Westshore Airport: Doubletree Hotel Tampa Westshore Airport is located only 1.5 miles from Tampa International Airport and offers convenient Interstate access.  The hotel is surrounded by countless dining and entertainment options and provides a central location to all Tampa Bay attractions, such as award-winning beaches, theme parks, sports venues and convention facilities.    Doubletree Hotel Tampa Westshore Airport features 489 deluxe sleeping rooms and more than 16,000 square feet of flexible function space. 
And there's your update.  Keep checking back for more info, as well as info about great things to do in Tampa Bay and Tampa Bay area events.