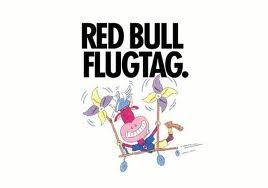 Hey there sports fans! Three years ago, Red Bull FlugTag first touched down in Tampa and set a FlugTag attendance record for U.S. events when 110,000 people crowded around the Tampa Convention Center waterfront. We have the opportunity to beat that record tomorrow, when FlugTag returns to the Tampa Convention Center. This will be FlugTag's only U.S. event in 2011.
FlugTag, German for "flying day" is an event where participants design and build a flying device and compete to see whose can fly the farthest. Red Bull has hosted more than 90 FlugTag events worldwide since 1991. The 38 teams will try to exceed the world record, 207 feet, set in St. Paul, Minn. last year. Judges will rate the teams based on their pre-flight skit, creativity and the length of their flight. One of the judges this year is former Tampa Bay Buccaneer and current Tampa philanthropist, Ryan Nece.
For those planning to attend on Saturday (admission is free!), FlugTag opens at 11 a.m. and the opening ceremonies begin at 12:30 p.m. However, plan for ample travel time, due to the Platt Street Bridge closure, the 17th annual Tampa Police Memorial Run occurring on Bayshore Boulevard tomorrow morning and of course, the increased traffic for FlugTag. Officials recommend that people park in the city's downtown garages or in Ybor City and take public transit into downtown.
For more information, visit
www.redbullflugtagusa.com/Tampa2011
.  That's it for now, but stay tuned in for more Tampa Bay sports news and updates!