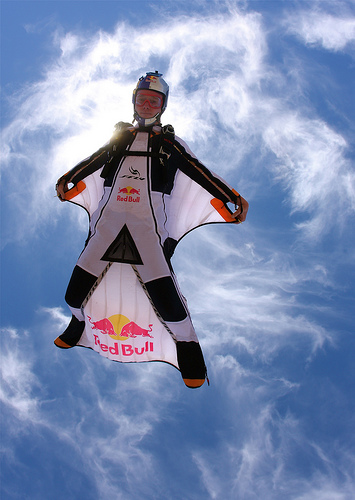 Hey everyone...Travis here.  Well, I think the headline just about says it all for this post, so we'll get to specifics:
WHAT: To celebrate the revitalization of downtown Tampa, Red Bull Air Force member Miles Daisher will amaze onlookers below as he BASE jumps from Skypoint and lands in the newest centerpiece of the city, Curtis Hixon Park. Tampa has had several recent openings in the area along the waterfront with grand opening of Glazer Children's Museum taking place tomorrow.
WHO: Red Bull Air Force member Miles Daisher.  Once upon a time, BASE jumping and skydiving were brand new sports, and Daisher was a pioneer in both of them - pushing the limits and taking on new challenges to constantly evolve his wings in the air. Now Miles has created a new life form within aerial sports called "skyaking." He's trying to start a new trend by jumping out of airplanes while strapped into a kayak eventually landing in the water - kayak and all. He'll be showing off his new spin on the sport in the Human Flight 3-D movie due out later this year on 3-D screens nationwide.
WHEN: Saturday, September 25th.  Scheduled jump times 10:15am and 11:00am (following the ribbon cutting ceremony).  Remember that the jump's subject to change based on weather conditions including wind. 
WHERE: Take off from the root top of Skypoint Condos.  Landing zone in Curtis Hixon Park along North Ashley. 
Get out there and take a look!  And keep checking back for more great Tampa Bay entertainment options, and more great things to do in Tampa Bay.