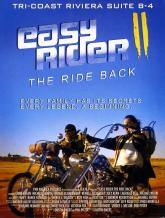 Good morning Tampa Bay, Alex here to let you know that  Tampa Bay premiere for Easy Rider: The Ride Back will be taking place at The Ride Bike Fest on February 25th.
The Ride Back Bike Fest will be bring the 1-800-Ask-Gary Amphitheatre to life  with thunderous roars from a spectacle of top new and custom cycles, live entertainment, exhibits and vendors with state of the art accessories.  This fest will take place on Saturday, February 25 at 3 p.m.
If you are looking to see some of the finest motorcycles in the Tampa Bay, you won't want to miss this fest.
The highlight of the evening will be the Tampa Bay premiere showing of the major motion picture Easy Rider: The Ride Back. 
More than 40 years after the original Oscar nominated film, this long awaited sequel develops and reveals the early saga of Wyatt's "Captain America" family and why these iconic characters represented the voice of their generation. The movie begins at 7p.m. under the stars at the Amphitheatre's main stage with VIP Reserved Seats, General Admission Seats and Festival Lawn.
What a great way to spend your Saturday… Looking at wonderful bike collections and ending your evening with a movie under the stars at the 1-800-Ask-Gary Amphitheatre. 
Tickets are on sale now! You don't want to miss out on this fun bike fest and motion picture premiere.
Limited VIP reserved seats are $18.50; General Admission seats are $12.50; and Festival Lawn tickets are $8.50 (less than the price for a movie alone).  Tickets are available online at www.livenation.com and at all TicketMaster outlets, the Amphitheatre Box Office or charge by phone at 1(800) 745-3000.
 
Enjoy your weekend and check back with us often for Tampa Bay Film News and for information on Things To Do in Tampa Bay.