Lisa here with an update on Tampa Bay Events happening in March (just an FYI March is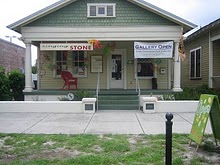 only six days away)!
The Singing Stone Gallery in Ybor City is hosting Queens of Confection; containers for candies, condiments & cookies. This exhibit is going on From March 27th (Sunday) to April 27th (Wednesday). The grand opening exhibit is Friday, April 1st from 5-7pm.
So why are they hosting this event you ask? Because the Singing Stone Gallery is participating in the 45th annual NCECA Conference being held from March 30- April 2nd here in Tampa. But what is the NCECA? It is the National Council on Education for the Ceramic Arts, an association of professional individuals and organizations whose interests, talents and careers are focused on the ceramic arts.
This particular exhibit will highlight a variety of approaches to creating serving dishes for side dish items. Everything from hand built earthenware to thrown and altered porcelain will be on site.
During the NCECA the gallery will be open Tue-Fri 11am-5pm; Sat 9am-5pm; and Sunday 1-5pm. You can also check out their handmade jewelry while there! And most importantly this is a FREE family event!
That's all Tampa, but you know the drill check here for more Thing To Do In Tampa Bay and other Tampa Bay Events!