Hey everyone, Intern Katy here! What a busy day we've had!
We started off our day by touring a historic gem in downtown Tampa, the Floridan Hotel. (Check out a cool photo collage of the hotel through the years by clicking here.) The property is currently undergoing renovations and hopes to open in the coming months. The hotel originally opened in 1927 and until 1960 claimed the title as the tallest building not only in Tampa, but in all of Florida. After years of decline, the Floridan closed its doors for good in 1989 and remained closed for more than 10 years until it was purchased by the current owners and the plan for its restoration was set in motion. We look forward to the Floridan's grand opening and marketing this amazing property as a premiere filming location in downtown Tampa. Lucky crews might even get to spend the night in this fabu property!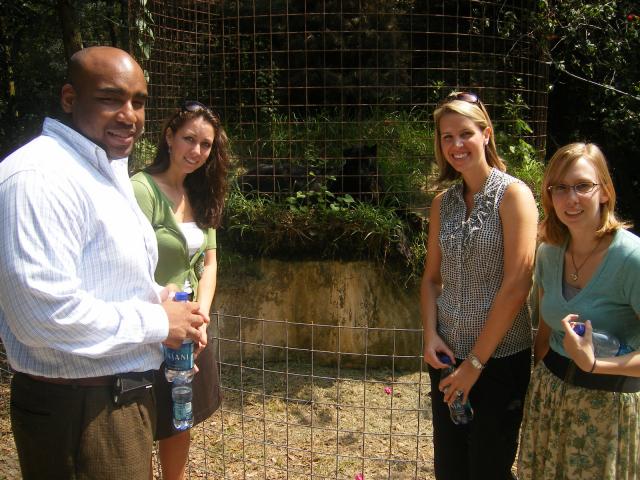 Directly following our tour of the Floridan Hotel we, along with several colleagues from Tampa Bay & Company, jetted over to Big Cat Rescue  for a site visit. Our location images of this property were more than 8 years old! Jeff Kremer, Director of Donor Appreciation, led us around this animal sanctuary, where we saw just a few of the 200 animals, including 20 species and sub species of wild cats.

Big Cat Rescue has that old Florida feel, making it a purrfect (sorry, I had to!) location for productions seeking that untouched Florida landscape and of course their amazing mission and knowledge of cats big and small make them the go-to experts for all things cat related. In fact, Operations Manager Scott Lope has appeared on a number of shows on Animal Planet and the Discovery Network as an animal expert.

This is a picture of us with the black leopard Jumanji. I know he's difficult to see, but blending in is part of nature right? From left to right: Jeremy, Tampa Bay & Company's Interactive Marketing Specialist, Jessica, the Marketing Intern, Lindsey, and Me.

As the afternoon got underway Lindsey and I continued with our busy schedule and made a couple trips to some productions filming in the area. The first trip we made was to the set of an HBO documentary filming in an industrial warehouse location near downtown. There, we ran into Robb Riley, the DP/Director of Chaos Films, a production company based in the Tampa. Robb and his wife, Julie, were just wrapping up as we arrived and told us that the shoot went very well. A special thanks to Darren Booth, Development Manager of The Heights Project for allowing HBO to use their warehouse space.
Next, we headed to Davis Islands in an attempt to catch up with the VW still shoot that was taking place at Davis Islands Park. Unfortunately the group had already broken down and moved onto their next location in St Pete but we're grateful to VW, Jake Mills Productions and Crispin Porter + Bogusky for selecting the Tampa area for their Jetta Sports Wagon shoot.
All in all, it has been a very educational and hectic day, and I can't wait to curl up and take a nap! A cat nap, perhaps? Stay tuned for more film related Tampa Bay area events and things to do in Tampa Bay!