Hey Tampa Bay, Alex here to inform all cat lovers in the area of a great opportunity. You really don't want to miss out on this one!
This weekend Purina Cat Chow is holding an open casting call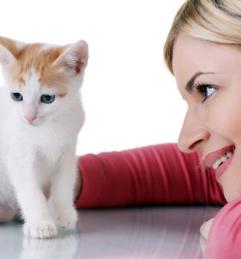 for a First-Ever Correspondent position… in Tampa!
They are looking for a passionate cat owner to fill a one- year position and earn $50,000.
The Purina Cat Chow Correspondent will:
•    Travel around the country and talk with cat owners about how they nurture well-being in their cats and learn about the strong connections between cats and their owners
•    Share experiences on catchow.com and Purina Cat Chow's social media channels including Facebook and Flickr
We are looking for passionate and knowledgeable cat owners with vibrant personalities and an interest in learning and sharing about the cat/owner relationship.  
No formal training or expertise is required to apply. Interested consumers, age 21 and up, can interview in person for the position at select PetSmart® stores.
What a great job, traveling around the country to educate cat owners on the well-being of their pets and sharing your experiences with the world!
Don't miss out on this awesome opportunity, head on over to the
Petsmart Store on Citrus Park Dr
. tomorrow,
March 5
,
between 10a.m.- 4p.m.
Address:
PetSmart Store
12835 Citrus Plaza Dr.
Tampa, FL 33625
For more information on Purina Cat Chow, visit
catchow.com
, or call 407-224-5388 x 3 (PLEASE DON'T CALL PETSMART)
If you can't make it out to Petsmart this weekend, online applications are being accepted until March 28, 2011 at catchow.com.
Check back with us later for more information on Things To Do In Tampa Bay!