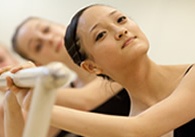 Hey everyone.  Travis back with more great things to do in Tampa Bay.  Let's head back over to the Patel Conservatory at the Straz Center for the Performing arts. 
The public is invited to attend Patel Conservatory classes free of charge on Monday, Jan. 31 through Saturday, Feb. 5, during the performing arts school's "Try a Class For Free Week."
The Try A Class For Free Week is a great opportunity to come in and check out a class before actually signing up...think of it as like a test drive!  You can get a feel for the class, observe the instructor and the student interactions and decide if it's something you'd like to try yourself!
All classes in theater, music and dance will be available for either participation or observation. No experience is necessary to attend these free classes.
A list of classes and more information about the Patel Conservatory (located at 1010 N. W.C. MacInnes Pl, Tampa, FL 33602) can be viewed online at www.patelconservatory.org. But remember that pre-registration is required by calling 813.222.1002.
Have fun everyone, and we'll see you back here for more great Tampa Bay area events and other Tampa Bay entertainment options.