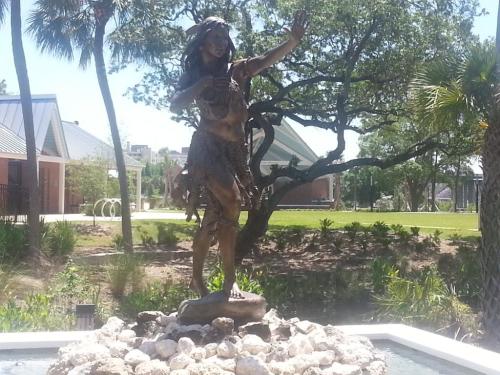 The owners of Tampa Bay's Ulele restaurant unveiled this week a bronze statue of their restaurant's name.
The statue of Princess Ulele stands across from the entrance to the restaurant, which sits at the northern end of the Tampa Riverwalk just minutes from downtown. The statue depicts the princess with one hand raised as she beseeches her people to spare the life of Spanish explorer Juan Ortiz as he was about to be murdered as revenge against Europeans in Florida. The story has led some to describe the princess as Florida' version of Pocahantas, who begged for Capt. John Smith's life in Virginia.
The statue stands next to the refurbished spring that also bears her name.
Ulele owner Richard Gonzmart unveiled the statue on Wednesday. Gonzmart's family has been in the restaurant business in Tampa Bay for five generations. In addition to Ulele, it owns Ybor City's Columbia Restaurant, the oldest restaurant in Florida. Ulele displays pieces from Gonzmart's own art collection, including a bust of Princess Ulele, an enormous metal horse sculpture and paintings hung on the walls of the restored former pumphouse.
Ulele takes its culinary inspiration from foodstuffs available to Native Americans in the early years of Florida's history. The menu is rich with oysters, seafood, local meats and vegetarian options.
Since it opened last summer, Ulele has earned a top rating from the users of Open Table reservation service. It was also featured on chef Emeril Lagasse's "Emeril's Florida" program on the Cooking Channel.