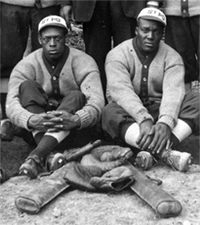 Hey everyone!  Travis back with more great Tampa Bay area events for you to experience, and boy do I have a great one!  Now, for those who know me, you know I love baseball!  So, when I heard about this exhibit, I just had to share. 
The Hillsborough County Public Library System is hosting the Pride and Passion: The African-American Baseball Experience Exhibit!  Don't worry, I'll tell you more!!!!
The exhibit (made possible by a grant from the from the National Endowment for the Humanities) will be opening on January 4, 2010 and will run through February 19, 2010 at the John F. Germany Public Library (that's the one at 900 North Ashley Dr. in downtown Tampa). 
This free exhibit does several things, including:
- Tells the history of African-American participation in baseball from the 19th century to the present
- Shows the complex linkage of race, sport, and society
- Places the black baseball experience into a context within the American cultural history and the struggle for civil rights 
In addition to the exhibit, the John F. Germany Library will be presenting an Opening Day Ceremony on Saturday, Jan. 16 at 2 p.m. with acclaimed illustrator Kadir Nelson, Jackie Robinson's daughter Sharon Robinson and Negro League scholars Dr. Lawrence Hogan and Dr. Robert Cvornyek. 
Like I said, this is going to be a great exhibit, so you need to make your plans to stop by, and definitely attend the opening day ceremony. 
If you want more info, just visit www.hcplc.org.  And of course, we'll bring you any and all updates we get. 
Until then, keep checking back for more great things to do in Tampa Bay and other cool Tampa Bay entertainment options.