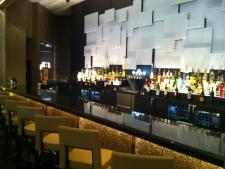 Good day to all! Jerm here with an update for ya on one of my newest Tampa Bay nightlife hot-spots!
If you haven't been to
CineBistro Hyde Park
, and experienced the first class movie-goer experience, then what the heck are you waiting for! I found myself asking that question last week after I had a chance to take a tour of the place. 
Folks this place is fit for royalty, and if I was a King and wanted to go out on the town and catch a movie and some dinner with my queen, then I would no doubt being heading to CineBistro.
Options like reserved theater seating, laid back leather rocking chairs, premium cocktails & signature drinks, and oh yeah an executive chef cooking your meal for you, should definitely make your night!
If you are like me and would be trying out the in theater dining, I'd suggest you get there 30 minutes before showtime, in order to ensure adequate time to get your order in and possibly eat before the showing.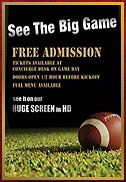 Not only is CineBistro fit for a king and queen, but this fall its fit for NFL Football fans as well! Starting tonight and throughout the regular season, CineBistro will show select NFL football games on the big screen in high definition!
Admission into the theater for the games is free, but as you can imagine the seats will be filling up fast so I'd suggest you going in and seeing the concierge on game day well before the game starts to get your tickets! It all begins tonight to as the New Orleans Saints will be taking on the Minnesota Vikings in a rematch of last year's NFC Championship match-up!
As you watch the game and root for your favorite team, feel free to browse from and select from the
full menu
! I don't know about you, but nothing says comfort to me like laying back in a huge leather chair while watching football on a ridiculously large tv screen, while having a full plate of Fettuccine Al Forno!
All in all, CineBistro caters to any and all crowds, so whether its date night with the Mrs. or a NFL Thursday night football party, stop by make it an awesome night!
That's all I got for now folks, but check back early and often for updates on great things to do in Tampa Bay!