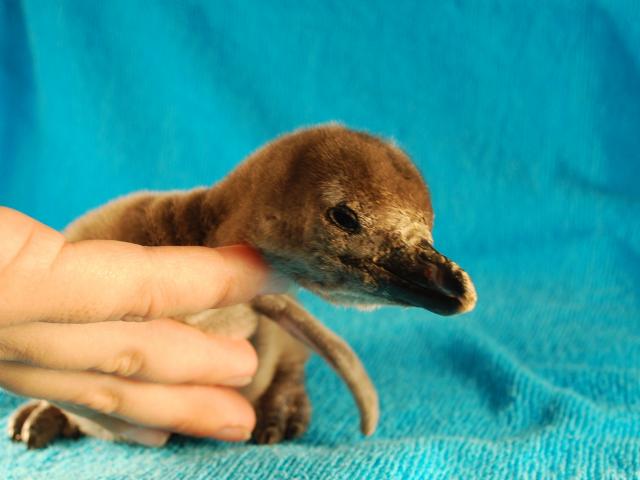 Hi everyone!  Travis back with some more great things to do in Tampa Bay and at Tampa's Lowry Park Zoo!  We got some really neat information from the Zoo that we just HAD to pass along....
On December 6, zookeepers welcomed the third successful hatching this year of an endangered African penguin chick!  Now is when you say, "awwwwwwwwwwww" as you're looking at the photo!  We'll give you a minute........
Now 10 days old, the downy grey chick is alert, warm and vocalizing (which we are told are three positive signs of health and strength). It is nesting inside the penguin building under the watchful care of first-time parents, Tinkerbell and Loki.
Here's some great news from the Zoo: To date, the parents are very attentive and sharing in the brooding responsibilities of the hatchling, whose gender has not yet been determined. The tiny chick weighed just 54 grams when hatched, and has grown to 272 grams as of Dec. 15.  The newest penguin chick will remain with the parents for a few weeks, then be transitioned to zookeeper care to facilitate independence and learning to swim, before ultimately joining the colony on exhibit in several months.
Once on exhibit, it will be easy to spot with its dark gray juvenile plumage for about a year, which will be replaced by the characteristic black and white feathers following its first molt.
Here's why all of this is important work: African penguins, endemic to mainly offshore islands on South Africa's coast, were reclassified in 2010 from 'vulnerable' to 'endangered' on the International Union for the Conservation of Nature's Red List. The Zoo's penguins are members of the Association of Zoos and Aquariums (AZA) African Penguin Species Survival Plan (SSP) program. 
There are 17 species of penguins in the world, each distinctive.  Not all species live in frigid climates, with some well suited for warm climates.  African penguins are also known "black-footed" penguins or "jackass" penguins for their donkey-like braying sounds. The wild population has declined drastically (estimated 80 percent) in the last 50 years due to loss of habitat and oil pollution.
This is some really cool stuff, so make sure you make plans to head to Tampa's Lowry Park Zoo to see what it's all about!!!  And if you go, let us know how it was...but we'll be by also!!!  If you want more info about the zoo, head over to www.lowryparkzoo.com.  And keep checking back here for more great Tampa Bay area events, updates like this, and much more.