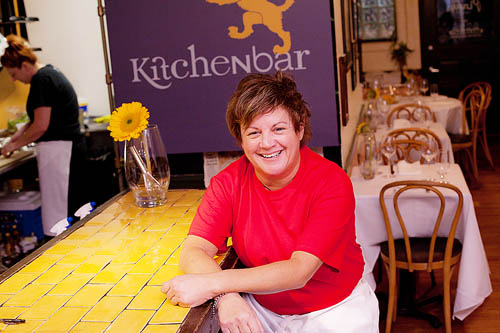 They seem to be the latest craze - pop-up restaurants!  And we have one popping up right here in Tampa Bay for a limited time.  Chef Jeannie Pierola is returning with the acclaimed Kitchenbar, her third installation of the hottest culinary trend in the country: Pop-Up Dining! 
This is truly a guerilla restaurant, as its name implies, that literally pops up at a selected space for a limited time.
Pierola, who has successfully produced two pop-ups by the name Kitchenbar over the last nine months, brings her creative talents to another limited engagement at BT's for 20 nights (Tues. – Sat.) August 2-28. Kitchenbar will continue Pierola's exploration of modern world cuisine and mark yet another return to the local dining scene since leaving Bern's in 2007.
I don't know about you, but I have a feeling this one will be just as good (or better than the others). 
Here's a little info about the chef - Pierola marks her commitment to Kitchenbar with the constant refinement of technique mixed with a deepened repertoire and a large dash of innovation. The finest ingredients, precise execution and creativity are intended to offer a singular culinary experience like no other.
The Kitchenbar menu is complemented by a unique wine list created by wine consultant Amy Cairns, who also hails from the Bern's Family of Legends (as a past wine director and cheese sommellier), holding posts as both Wine Director of SideBern's and Cheese Sommelier at Bern's Steak House.
Reservations may be hard to come by, and as we said, it won't be around long, so make the call now!  The Kitchenbar reservation line opens on July 25...just call 813-374-4537.

And keep checking back here for more Tampa Bay dining information, along with other great things to do in Tampa Bay and Tampa Bay area events.