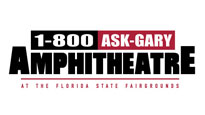 Hello Tampa, it's Melissa and I'm back to talk to you about some really great concerts for the upcoming month.
The newly named 1-800-ASK-GARY Amphitheater has been home to a lot of great concerts since first opening back in 2004. Artists like Bruce Springsteen and the E Street band, Aerosmith and Rihanna have performed at the outdoor venue built for 20,000.
Starting on September 18th, and going until mid-October, the Amp will be home to five concerts! Here's a list of the artists and dates they will be in Tampa:
Kings of Leon: September 18th, 7:30 p.m.
Rascal Flatts with Kellie Pickler and Chris Young: September 25th, 7:30 p.m.
Rush: October 1st, 7:30 p.m.
Jonas Brothers: October 8th, 7 p.m.
Sugarland with Little Big Town and Randy Montana: October 15th, 7:30 p.m.
It looks like there is enough diversity between these artists that you are bound to find one you would like to see. If you visit
livenation.com
, you can purchase tickets and even upgrade to VIP packages and parking to make the evening even more special.
I'd hate to keep you here any longer, so that is it for me…for now but you know to always check back here for updates about things to do in Tampa Bay!