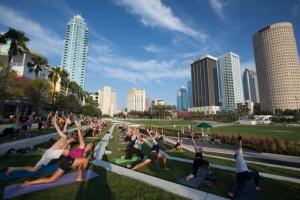 This summer, volleyball players that don't want to make the trek to the beach can get their game on at Curtis Hixon Waterfront Park, where a temporary beach volleyball court has been installed. 
The 30' x 60', white-sand court was set up as part of the first annual Tampa Bay Margarita Festival, which took place this past weekend at Curtis Hixon.  The court will be up until the end of July and is free and open to everyone (first come, first served), so there's no excuse not to go!  And don't forget to check back this winter for Curtis Hixon's annual ice rink!
Play beach volleyball this Sunday and try Yoga in the Park afterwards at 5 p.m!
Stay tuned for more ways to unlock Tampa Bay!
Curtis Hixon Waterfront Park is located at 600 N Ashley Dr., Tampa.