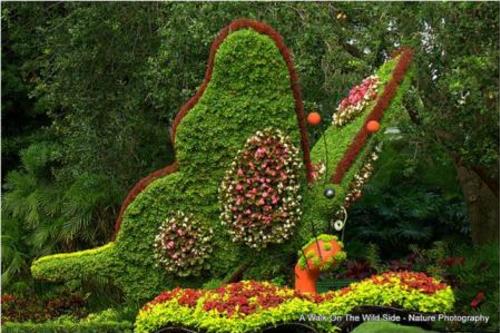 With awesome roller coasters like Cheetah Hunt, Falcon's Fury, and this summer's new Cobra's Curse, Busch Gardens Tampa Bay gets loads of attention for its thrills.
With great concerts and excellent nosh, Busch Gardens is also getting lots of praise for its annual Food & Wine Festival, which wraps up April 30.
But the folks at Behind the Thrills have found yet another aspect of our hometown theme park that deserves a gold star: its landscape art.
The landscape crew starts work after the guests leave, refreshing hundreds of plantings with millions of blooms grown in the park's own greenhouses.
But Behind the Thrills highlights my own favorite part of Busch Gardens Tampa Bay's landscaping: Its topiaries.
The sculptures are all over the park, starting with the leaping lion that welcomes visitors just outside the main gate.
Wander through the park's shaded lanes, and you'll see plenty more: an enormous octopus rising from a pond, a coiled serpent, even a gaggle of plant-based paparazzi waiting for you to pose for them.
Together, they emphasize the "gardens" in Busch Gardens Tampa Bay, which began life in the 1950s as a lushly landscaped tropical paradise that served Anheuser-Busch beers.
The free beer (and the A-B Clydesdales) are no more, but the attention to landscaping detail lives on. And as famed film director Errol Morris pointed out years ago, topiary ain't easy.