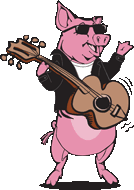 Hey everyone...Travis back with a reminder about one of my favorite Tampa Bay area events of all time. 
In just two weeks, some of the best BBQ teams in the country will come to Plant City for the Seventh Annual Plant City Pig Jam State BBQ Championship. 
What that means for the rest of us is finger linkin' good beef brisket, pork, chicken and ribs.  From 10 a.m. to 5 p.m. on 11/21 top teams of elaborately equipped cooks will serve up their award winning meats at the Randy L. Larson Softball Four-Plex (That's at 1500 South Park Road).
 
In all, about 70 teams will be competing for $15K in cash and prizes in this Kansas City Barbeque Society sanctioned event, all with different cooking experiences and styles. 
Plus, there'll be plenty of opportunities during the event to chat with cooks about their grills and pits, the wood they burn and how they prepare their meats.
Kids will be entertained in the children's play area, and sno-cones, cookies, and refreshments will be available. 
And, none of the spectators have to worry about missing Saturday football on TV.  Live telecasts of the day's games will be broadcast in the beer pavilion.
Also, the Jason Young Band will have the crowd on their feet when they take the stage from 11a.m.-2 p.m. performing country, rock n' roll and oldies.
Admission is free; parking is $5.
It doesn't get much better than that!!!!!!!!  So, get your appetites ready to down some BBQ!  And we'll see you back here for more great things to do in Tampa Bay and other Tampa Bay entertainment options.