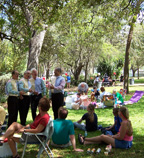 Hey everyone...Travis back with some updates about some great things to do in Tampa Bay.  we are heading over to the Henry B. Plant Museum for some fun Tampa Bay Entertainment options. 
Their spring tradition of Picnic in the Park continues to evolve with old-fashioned flair, and will be held on Sunday, March 11 beginning at 10:30am. Visitors can come early to get a prime spot of shade and plan to stay late into the afternoon.
Victorian games will be available for all-day play and include dominoes, horseshoes, badminton, tiddlywinks, hoops & sticks and chess.  Every boat excursion down the Hillsborough River was filled last year, and as a result, Tampa Water Taxi Co. will increase the number of rides this year – but happily the cost will remain $4 per person!!!!! 
 
Picnic in the Park is a perfect opportunity to relax with your family members and friends while enjoying simple pleasures.  You may bring your own picnic basket, chairs, blankets and coolers or you may want to rent a table for eight ($20) and purchase your lunch from the museum.  The $8 box will be filled with fried chicken, potato salad, grapes, chips, pickles, pound cake and water.
Ummm, yummmmmmmmmmmmm!
 
And there will be great entertainment - The Flexible Four Barbershop Quartet will kick off performances at 11am, followed by the Tampa Community Band who will play turn of the century favorites. Derek Smith Gospel Ensemble (described as jiving and jumping) sponsored by The Links, Inc. Tampa Chapter will add to the spirit of the day.
The Nathan Coe Marsh Comedy Magic Show will follow them, and then The University of Tampa's Band Wind Ensemble will be the final group.  They will conclude their program with the ever-popular Tchaikovsky's 1812 Overture, complete with cannon fire provided by the Gunners Guild of Ye Mystic Krewe of Gasparilla.
 
The day will be filled with additional experiences as well; among them are complimentary Blue Bell Ice Cream; $1 Museum admission; and a live theater performance in the bamboo garden at 2 pm of Arthur Schleman, 1895 Hotel hunting and fishing guide.
 
Reservations for tables and box lunches must be made by March 10 by emailing sshifke@ut.edu or calling 813-258-7302.
Have fun everyone and I hope to see you out there!  Until then, keep checking back for more great Tampa Bay area events.