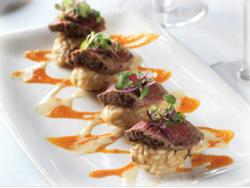 Hey Tampa, Kristin here to tell you about Flemings new "Pick a Pair!"Fleming's Prime Steakhouse & Wine Bar will be introducing an array of small plates with a selection of wines fitting to the cuisine of your choice.
You pick one small plate and one oversized wine pour from Fleming's 100 selection, you can't go wrong with any of the choices they will be offering. Check out the list below!
Sliced Filet Mignon                                   Merlot Penley Gryphon, Australia
Shrimp Scampi Skewers                         Albarino Paco & Lola, Spain
Petite Lamb Chops                                    Red Blend Cline Cashmere, California
Seared Ahi Tuna                                        Pinot Noir A to Z Wineworks, Oregon
New Bedford Scallops                              Sauvignon Blanc Cakebread, Napa Valley
Filet Mignon Skewers                               Cabernet B.R. Cohn Silver, Napa Valley
Lobster Tempura                                       Chardonnay Silverado, Napa Valley
The special pairing will be available April 11 through May 10, 2012. Stop by and enjoy the perfect pair and stay tuned in for more Tampa Bay dining updates!