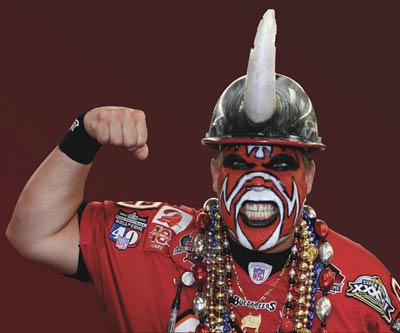 Hey gang.  Travis here with some Tampa Bay entertainment you have all been waiting for.  That's right, football season has arrived, and it's time to start getting excited.  The Tampa Bay Bucs have a full schedule packed with action.  Well, the Pewter Nation has your solution to cheering the Bucs on to Victory - the Pewter Nation Buccaneer Tailgate parties! 

It's $35 each game (you can get as many or as few tickets as you want) and it includes Freshly prepared BBQ, Chicken, Ribs, Hamburgers, Hot Dogs, Pasta Bar, Taco Bar, Cole Slaw, Italian Ice, Coke, Diet Coke, Sprite, Bottled Water, Ice Cold Draft Budweiser and Budweiser Light and Music by Pewter DJ Bob Moore.  Now that's a deal on some very cool Tampa Bay entertainment! 

The games you can participate in are: vs. Dallas Cowboys (9/13); vs. New York Giants (9/27); vs. Green Bay Packers (11/8); vs. New York Jets (12/13). 

If you are interested, entry Wrist bands can be purchased online at www.GearUpForTheGame.com, and wristbands to tailgate/pep rally includes: Entry into Tailgate Hospitality Tent, All you can eat and drink (Opens 3 hours before kickoff).  Plus, parking available close to the tailgate on Hillsborough Community College property. 

So, make sure you head over to www.GearUpForTheGame.com to get the full scoop and get your tickets now!  And Go Bucs! 

We'll see you out there, but keep checking back for more great things to do in Tampa Bay!