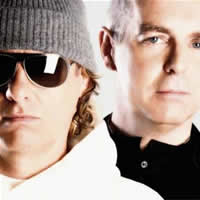 Hey everyone!  Travis here with another exciting giveaway!  This time we are giving away 2 tickets to see the Pet Shop Boys for their Pandemonium Tour on Thursday, September 10 at the Tampa Bay Performing Arts Center. 

We will give the tickets away on Tuesday, Sept. 1.  Again, this will be a Facebook giveaway, so you have to be a fan of the Visit Tampa Bay Facebook page - www.facebook.com/visittampabay. 

As always, if you are one of the first 10 people to respond correctly to the trivia question, then you'll have a shot of the tickets. 

Here's a description of the show...from the Performing Arts Center - One of the most iconic and influential pop acts in the world, the Pet Shop Boys return with their ninth album Yes, their first release on Astralwerks. In a career spanning more than two decades, the duo of Neil Tennant and Chris Lowe have created some of the most beloved and recognizable hits in the world (`West End Girls', `It's A Sin', `New York City Boy', etc.), and sold more than 30 million records. They've worked with artists like Dusty Springfield, David Bowie, Liza Minnelli, Robbie Williams, Kylie Minogue, Electronic and Madonna.

Filled with sparkling state of the art pop songs, Yes is an affirmation of the duo's knack for mixing innovative artistry with exuberant commercial appeal. Produced by the acclaimed Xenomania (Girls Aloud, Sugerbabes, Cher, Annie, Saint Etienne), the album features guitar work by ex-Smith Johnny Marr and orchestral arrangements by Owen Pallett (Last Shadow Puppets, Final Fantasy).

of course, you can get more info on the Performing Arts Center Website...www.tbpac.org. 

So, make sure you are on the visit tampa bay facebook page (www.facebook.com/visittampabay) at 11am on Tuesday, Sept. 1 for a chance to win these tickets. 

And keep checking back here for more Tampa Bay entertainment options and other great things to do in Tampa Bay!