Josh Jones here keeping all you volleyball fans up to date with a Tampa Bay Sports update!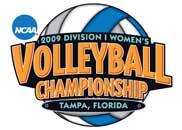 For the first time in the history of the tournament, the NCAA Women's Volleyball Championship is headed to the Sunshine State December 17 & 19, 2009 at the St. Pete Times Forum in Tampa, Florida! 
Fans can purchase all session tickets to this year's championships for $60.00 by
clicking here
, calling 813-301-2500 for group rates or by logging on to
www.sptimesforum.com
!
Team Information:
Penn State (36-0) won their 100th match in a row defeating California on Saturday and will head to Tampa to defend their national championship crown.  They will take on Hawaii (32-2), who blanked Michigan 3-0 in their Saturday victory.
The Minnesota Golden Gophers (28-8) return to Tampa with a 3-1 win over Florida State on Saturday.  Minnesota kicked off their season in the "Tampa Twice" doubleheader back in September.  They will take on Texas (28-1), who defeated Nebraska 3-1 on Saturday to punch their ticket to Tampa.
Thursday December 17th
Minnesota (28-8) vs Texas (28-1)             7:00pm
Penn State (36-0) vs Hawaii (32-2)           9:00pm
Saturday December 19th
National Championship        8:00pm
Get your tickets now!  The total attendance for the finals site of the 2008 championships was 31,729, the second-highest for the NCAA volleyball championships. Included in the total was a semifinal crowd of 17,430, the highest attendance to watch an NCAA Championships match, and a championship match attendance of 14,299, the second-highest championship match attendance in NCAA Division I Tournament history.  So don't wait, get yours today! 
For more information on the tournament, please visit
www.NCAA.com/wvb
, and sty tuned in for more from your Tampa Bay team with game updates etc...!