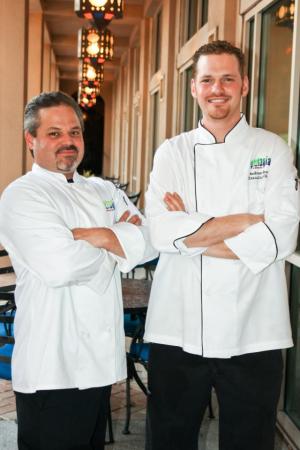 Tampa Bay Beer Week is finally upon us! Our friends over at Pelagia Trattoria are one of many Tampa Bay establishments celebrating the area's unique beer culture.
On Tuesday, March 5th from 5-8 p.m., Pelagia will be serving various samples of locally brewed, handcrafted beers from Tampa Bay-based Cigar City Brewery and Saint Somewhere Brewing Company, with specially paired bites during a live performance by Woody, a well-known locally based musician.
Pelagia Executive Chef Andrew Basch and Chef Brett Gardiner have prepared a delicious tasting menu for this event that will surely make your mouth water.
Guests will be able to sample from the following menu between beer tastings:
-Spicy lamb meatballs with saffron aioli
-Chorizo-stuffed crunchy olives
-Tuna tartare in a wonton cup
-Rock shrimp ceviche
-Truffle French fries
-Stone oven-baked bianca pizza
-White anchovies with shaved radish capriccio
The following beers will be available for sampling at the event:
Cigar City Brewery - Florida Cracker, Jai Lai IPA, Evander and Helles Lager
Saint Somewhere Brewing - Pays de Soleil and Saison Athene beers.
The best part of it all? All of this is only $35 per person! Spaces are limited so be sure to purchase your tickets today. To purchase, contact Trent Hoare at trent.hoare@renaissancehotels.com  or call (813) 433-8100.