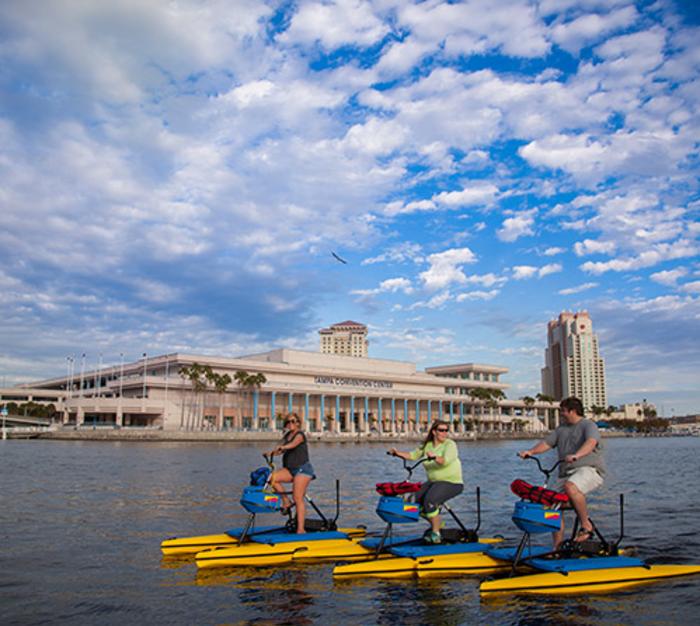 Plenty of people paddle their way around Tampa Bay's sparkling waterfront. Now they can do it by pedal.
Tampa Water Bike Co., the newest addition to Tampa Bay's growing waterfront, is featured today in 83 Degrees, our local online magazine.
Owners Dan and Amanda Fleischbein rent water bikes -- pontoon-mounted bikes with a pedal-powered propeller -- and biyaks -- kayaks riders pedal rather than paddle. The company works from the public docks outside the Tampa Convention Center and Sail Pavilion, 333 S. Franklin St.
The water bikes cruise along at 5 mph and are so stable your dog can ride shotgun!
From the saddle of your water bike or from the seat of your biyak, you get a few of downtown's skyline that few people get to see.
Water bikes and biyaks can travel east along Garrison Channel as far as the edge of the Port of Tampa's secure zone, south down Seddon Channel between Davis Islands and Harbour Island, or north up the Hillsborough River as far as your legs can power you.
Wave to the land-lubbers strolling the Tampa Riverwalk as you pedal by.
In the evening, watch from the water as downtown's bridge and the Tampa Museum of Art come to life with shifting colored lights.