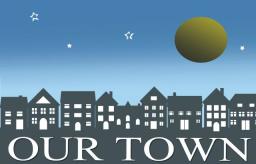 Hello Tampa Bay, Alex here to let you know about one of the most beloved American plays of all time coming to the David A. Straz, Jr. Center for the Performing Arts.
On November 17-19, Our Town by Thornton Wilder, will be performed by Patel Conservatory Youth Theater students in the TECO Theater at the Straz Center.
Our Town is the story of a fictional, small New Hampshire town during the beginning of the 20th century. While the play is mainly about ordinary people living out their lives, it touches on deep themes concerning life and death and the meanings of both. The plot centers around Emily and George, who begin as neighbors early in their lives, then fall in love, marry and are eventually separated by death.

Winner of the 1938 Pulitzer Prize for Drama, Our Town is one of the country's most frequently produced plays and is considered an American classic.
Directed by Kerry Glamsch, a University of South Florida acting instructor, the Pulitzer Prize-winning Our Town is a thought-provoking and emotionally stirring production featuring 15 high school and college students from around the Tampa Bay area.
One of the Our Town actors, Braxton Perry, is writing a weekly blog which can be accessed at http://patelconservatory.blogspot.com. This blog details Perry's first time acting experiences in Patel Conservatory Youth Theater as he and his fellow actors work toward the final production. Check it out!

Our Town performances will be held Nov. 17-19, Thursday and Friday at 7 p.m. and Saturday at 2 and 7 p.m.
Regularly priced tickets start at $12 through Nov. 3 and $15 starting Nov. 4 and may be purchased by calling 813.229.STAR (7827) or 800.955.1045 outside Tampa Bay, in person at the Straz Center Ticket Office or online at www.strazcenter.org.

Have a wonderful day and check back with us throughout the week for updates on Things To Do in Tampa Bay.