Good morning Tampa Bay, Alex here to let you know about the new addition to the Patel Conservatory's Rock School staff.
Dean Tidey, a British guitarist who has played with bands suc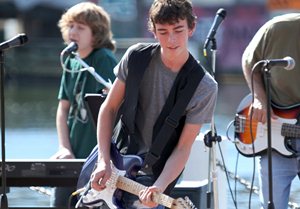 h as U2, the Rolling Stones, Cold Play, and R.E.M., has joined the Patel Conservatory's staff as a Rock School instructor.

Tidey has played guitar for the last 12 years for the acclaimed English rock band, Feeder, but in April, settled in Tampa with his wife - a Plant City native - and their six year-old son. While here, Tidey has been recording and producing music. While playing in concert with Kim Richey at the David A. Straz, Jr. Center for the Performing Arts, he discovered the Rock School program. 
In Rock School classes, students ranging in age from youth to adult, are placed in bands that practice weekly to create a Rock School Blowout performance for the end of the semester. No prior experience or training is required.
Placement auditions for Rock School classes will be held January 3, 7 and 10, 2012 at the Patel Conservatory.

Rock School classes are open to those in grades two through adult, from beginner to advanced.  ($15 fee to audition)  

For more information and to schedule an audition, call 813.222.6411. 
 
Have a wonderful day and check back with us often for more information on the Arts and Culture in Tampa Bay!