Hey Tampa Bay, Alex here to tell you about a FREE event happening this April. Do you like dancing to a variety of rumba music and drumming? If so, this is just the event for you!
The Patel Conservatory at the Straz Center for the Performing Arts is hosting a free demonstration and lecture from Los Muñequitos de Matanzas. This event will take place on Sunday, April 17, from 1 to 2 p.m. at the Afro-Cuban Club.
Enjoy good music and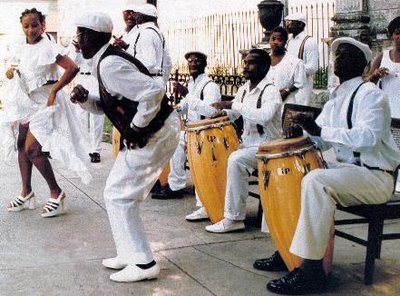 dance, while learning about one of the most highly regarded percussionist groups in the world.        
Los Muñequitos de Matanzas, will be performing and holding a discussion with audience members.
Masters of Afro-Cuban ritual and rumba music and dance, Los Muñequitos de Matanzas keeps alive 500 years of drumming, chanting and dance, preserving the vibrant culture of the African Diaspora intrinsic to Cuba's living legacy.
To register and for more information, call 813.222.1002 or visit
www.patelconservatory.org.

Seating is limited, so make sure to arrive on time! 
As part of the Straz Center for the Performing Arts, the Patel Conservatory offers classes in dance, music and theater for all ages and abilities.
If you would like to see Los Muñequitos de Matanzas perform, you can check them out on Saturday, April 16 at 7:30 p.m. in Ferguson Hall.
Regularly priced tickets start at $29.50 and may be purchased by calling 813.229.STAR (7827) or 800.955.1045 outside Tampa Bay, in person at the Straz Center Ticket Office or online at www.strazcenter.org.
Hope you are having a wonderful day, don't forget to check back with us often for more exciting information on Things To Do In Tampa Bay!