Hello Tampa Bay, Alex here to let you know about  a concert taking place at thePatel Conservatory at the David A. Straz, Jr. Center for the Performing Arts.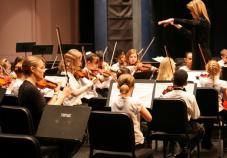 The Vocal Arts Concert will be held on Saturday, December 10, 2011 at 7:30 p.m. in the TECO Theater, David A. Straz, Jr. Center for the Performing Arts
Students from the Patel Conservatory's Vocal Arts Senior and Junior Choirs will perform a program of classical choral music, spirituals and contemporary holiday music. The concert ends with the choirs joining the audience in a performance of Handel's Hallelujah Chorus.

Under the direction of conductors Gregory Ruffer, Deborah D. Lynch and Allison Novak, this concert will bring young singers together with master artist-teachers to take singing to a whole new level.

The Patel Conservatory is providing you with another chance to watch a great show that will get you into the holiday spirit.

Purchase your tickets today!  Regularly priced tickets start at $12 and may be purchased by calling 813.229.STAR (7827) or 800.955.1045 outside Tampa Bay, in person at the Straz Center Ticket Office or online at www.strazcenter.org.

 Check back with us often for more updates on Arts in Tampa Bay!