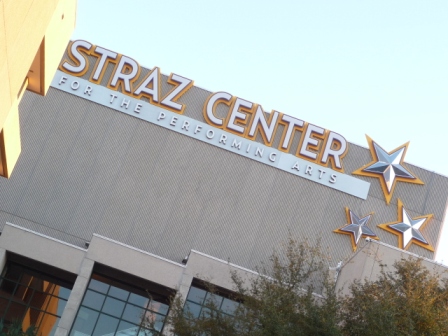 Hey Tampa, Lisa here with an update on arts and culture in Tampa Bay.
Our very own Patel Conservatory (located at the
Straz Center for the Performing Arts
), has just recently announced two new additions. Gregory Ruffer and Stephen P. Brown have been appointed to the positions of artistic director and principal conductor of the Patel Conservatory Youth Orchestra.
Gregory Ruffer will be the artistic director and will oversee the musical and administrative areas of the program, teach sectionals, lead the Exploration Saturdays program and regularly conduct each of the ensembles.
Before coming to Tampa, Ruffer was the director of choral activities and applied voice at the College of Central Florida in Ocala. before that he was the director/founder of the Orlando Chorale, the music director and touring coordinator for Orlando Ballet, director of education for Orlando Opera, and he spent nine years teaching instrumental and vocal music in schools in Ohio and Washington DC. He has a very impressive resume!
Ruffer holds a Bachelors of Music and Masters of Music degree in music education from Bowling Green State University in Ohio, and he is currently working on the Ed.D. in college music teaching from Columbia University Teachers College in New York City.
Stephen P. Brown is joining the
Patel Conservatory
with more than 30 years of experience, and he will be the Principal conductor of the Patel Conservatory Youth Orchestra. On occasion he will also work with the Intermezzo Orchestra and the Prelude Strings.
The Tampa Bay Youth Orchestra (TBYO) is the most advanced, while the Intermezzo Orchestra is an intermediate ensemble of string players, and the Prelude Strings is a beginning orchestra.
Brown is originally from Rochester, England and has conducted worldwide in Europe, Africa and North America. He is a graduate of the Trinity College of Music. Brown is also a very qualified individual, and will bring a lot to the table for the TBYO.
So congratulations to you both! And stay tuned for more Tampa Florida News, and other Things to do in Tampa Bay!