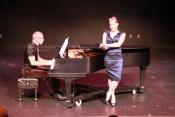 Hey everyone.  Travis back with some great Tampa Bay entertainment for you to take advantage of.  If you're in the mood for some beautiful music performed by up-and-coming musicians, stop by the David A.Straz, Jr. Center for the Performing Arts' TECO Theater downtown, on Friday, Aug. 3 at 7 p.m.
Vocal and instrumental students from the tri-county area will unite in this Patel Conservatory Vocal Arts Academy concert. Instrumental music students from the Orchestra and Chamber Music camp will work with Patel Conservatory faculty to perform small ensemble works for their instruments, and high school students will present solo, choral and musical theater songs. The two camps will even join forces for a few selections.
Regularly priced tickets, now through Aug. 2, start at $8. The day of the show, regularly priced tickets start at $12. For tickets, call 813.229.STAR (7827) or visit www.strazcenter.org.  And of course if you want more info on the Patel Conservatory, call 813.222.1002 or visit www.patelconservatory.org
And keep checking back here for more great things to do in Tampa Bay!