Hey everyone.  We have some guest blogs coming your way from our friends at the Patel Conservatory...all about the great things they have going on.  We're going to kick it off with some great news - the Patel Conservatory has earned their accreditation! 
Guest Blog:
If you're a student, and you want more from your performing arts class, check out the Patel Conservatory. The Conservatory at David A. Straz, Jr. Center for the Performing Arts has recently been granted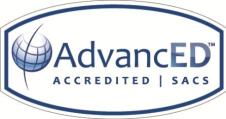 accreditation by the Southern Association of Colleges and Schools Council on Accreditation and School Improvement (SACS CASI), an accreditation division of AdvancED.
What does that mean for you? It means there's a good chance you can get class credit for taking a class at the Patel Conservatory. Ask your school for details or call the Patel Conservatory at 813.222.1002.
Accreditation is designed to help educational institutions boost their ongoing performance efforts for the benefit of their students. The Patel Conservatory is one of a handful of performing arts schools in the state to receive accreditation.
Congratulations to the Patel Conservatory and the Straz Center!
Thanks again to the Patel Conservatory for their guest blogs.  Stay tuned everyone for more guest blogs and great information about things to do in Tampa Bay and other Tampa Bay area events.