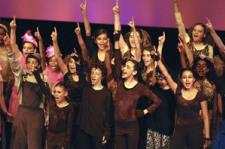 The Patel Conservatory's NGB, Next Generation Ballet, dancers have been given the opportunity to perform a group piece at the upcoming YAGP Gala at the David A. Koch Theatre at Lincoln Center in New York City on April 27, 2012.  The dancers received this honor by winning the Outstanding School Award at last year's Youth America Grand Prix Final.
This is a very unique and amazing opportunity that the dancers will get to take part in, performing with some of the world's top ballet companies! The YAGP Gala is sold out annually, featuring international ballet stars from around the world. The NGB dancers will be performing Shostakovich Suite, choreographed by Richard Cook, and staged by Stark.
This Thursday, April 19th the dancers will be giving a sneak preview to local ballet supporters, staff and press. This will take place at the Patel Conservatory at 6:30 p.m. in room 302. There will also be a Meet & Greet with the dancers after the performance is completed.
Please come out and support this amazing accomplishment!  And head over to the Patel Conservatory's website for more information - http://www.patelconservatory.org/. 
We'll see you back here for more great things to do in Tampa Bay, as well as other Tampa Bay area events.