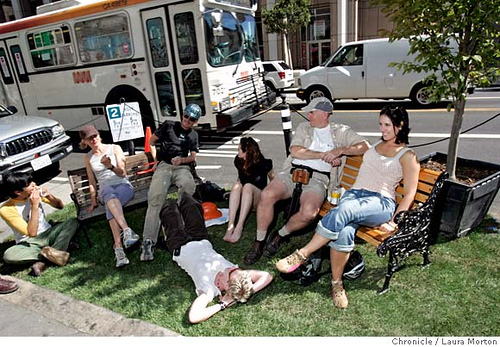 Hey gang! Travis here with some cool Tampa Bay news!  On Friday, September 18th, mini-parks will be sprouting up in parking spaces in Downtown Tampa as part of PARK(ing) Day – an annual global event where parking spaces are transformed into parks for the day.
I know, I thought it was a cool title too!  Here are the details for you -

These temporary park installations work to transform urban environments designed for vehicle use into a communal space for public use, promote green initiatives, and bring awareness to civic processes and policies that directly impact our landscape and environment.

PARK(ing) Day was initiated in 2005, by Rebar, a San Francisco art collective, who transformed a single metered parking space into a temporary public park for the day. Since 2005, the open source event has grown into a worldwide phenomenon, created by independents groups of citizens, artists, designers, and activists. Last year's PARK(ing) Day included 600 installations in 100 cities across the globe.
 

SuperTest, a local arts organization, in conjunction with The Tampa Downtown Partnership, have planned a dozen PARK(ing) space installations throughout the N. Franklin Street corridor, from Café Hey (just north of I-275) to Madison Street.  The PARK(ing) installations will line this pedestrian friendly route designed to highlight independent businesses and promote civic engagement.

Visitors will be encouraged to walk, bike, or utilize the free electric cart shuttles to tour and relax in the Tampa PARK(ing) Day spaces. Park installations will be accessible from 10am – 6pm, Friday, September 18th.

Tampa PARK(ing) Day sites will be designed and installed by a variety of participants, including SuperTest, Tampa Downtown Partnership, ASD, Tampa Downtown Market, AIA Tampa Bay, The Heights, Tampa Street Market, and Experimental Skeleton.

In addition to places to simply sit and relax and/or play a game, participants are invited to take away plants and orange tree seeds from the various installations.
 

An after-party celebrating Tampa PARK(ing) Day will be held at Café Hey, 1540 N. Franklin Avenue, from 8-12 pm Friday, September 18th. The after-party will feature live music and a slideshow with images of the day's events and site installations. This event is free and open to the public.

More information:
For a map of the sites: http://www.communitywalk.com/tampa/fl/tampa_parking_day_2009/map/417813
For more on the global event: http://www.parkingday.org/

Now, that's some cool Tampa Bay entertainment if you ask me.  Make sure you plan to head out and enjoy some of these PARK(ing) spaces! 

And keep checking back for more great things to do in Tampa Bay!