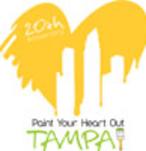 Hey everyone!  Travis here with a Tampa Bay area event that you definitely need to hear about.  It's called Paint Your Heart Out, Tampa!

City of Tampa Mayor Pam Iorio calls Paint Your Heart Out, Tampa  "...the best all-volunteer program that this community has ever had." So, how could you not want to go out and participate?!

Paint Your Heart Out, Tampa is a city-wide program that enables citizens, businesses, clubs, and organizations to lend a helping hand to low-income, elderly citizens in our community. Over the past 20 years, volunteers and sponsors have painted the homes of more than 2,000 grateful and deserving homeowners. 

It all happens on April 25, but you need to register now to get involved!  There's even a celebration event that includes fantastic barbecue and lively music by Mad Max Entertainment! 

If you want to head out and help out this cause, you can contact Paint Your Heart Out, Tampa directly at (813)258-4512 or pyhot@paintyourheartouttampa.com.  So, make sure you get involved...if anything, it'll be great karma!!!

And, keep checking back for more updates about Tampa Bay area events, as well as info on great things to do in Tampa Bay!