Hey everyone...here's an awesome program I just had to share with you all!  It new, it's exciting, and it's going to bring the Tampa Bay area some amazing exposure!  I know it's not the typical Tampa Bay area events that we bring you, but I figured you'd enjoy a good read.  Take a look -

Tampa Bay & Company teamed up with the State's marketing organization, VISIT FLORIDA, to implement a unique, high-tech outreach program, titled "Open Florida."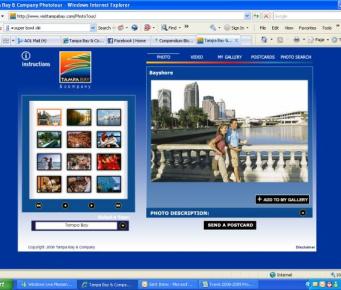 This new marketing initiative is the first of its kind in the United States tourism industry and provides consumers with a unique online travel planning experience by highlighting a collage of Tampa Bay destinations, products and experiences through rich media video, audio and photography.

Tampa Bay & Company partners who participated in this innovative marketing program free of charge will see widespread distribution through a number of Web-based channels.  Additionally, participants will receive exposure on popular travel sites, along with the VisitFlorida.com and VisitTampaBay.com web pages. 

To access the videos, visitors and Tampa Bay residents can log on to www.VisitTampaBay.com/PhotoTour, and explore Tampa like they've never done before. 

Now, how's that for a cool marketing program!  Definitely take a minute to log on and take a look at those videos, and the others ones we have up.  And, keep an eye out for more information about next year's program. 

That's just about it for the day, but we'll be back tomorrow with more updates about things to do in Tampa Bay. 

So, until next time, enjoy this amazing, yet cool Tampa Bay weather and let us know what you think about the videos!