Hello there fans and friends alike! Jerm here with another update for you from our local Tampa Bay dining scene!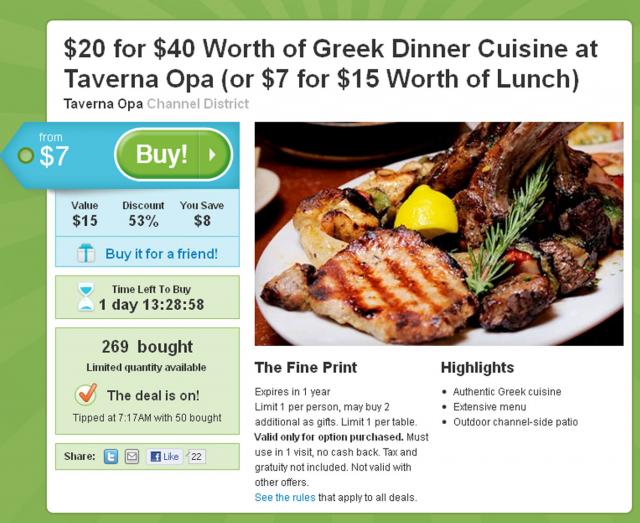 Today's deal comes to you straight from Channelside Bay Plaza and our friends from
Taverna Opa
!
Head on over to Taverna Opa and you'll suddenly feel that you've arrived in Greece. What awaits you upon arrival is fresh, delicious Greek cuisine!
Feel free to enjoy lunch waterside or a night of entertainment with belly dancing on weekends, the Greek Zorba line dance, and confetti napkins showering you and guests!
I tell you folks its about as much fun as you'll have eating a meal!
This sweet deal even has a few different options for you to choose from:
    For $20, you get $40 worth of Greek fare and drinks during dinner.
    For $7, you get $15 worth of Greek fare and drinks during lunch.
If you would like to learn more about Groupon, just check out the site at
Groupon Works
. If you or your business are located here in Tampa Bay and interested to learn more about making Groupon work for you, just contact our awesome local Groupon rep Jessica Dwyer at
jdwyer@groupon.com
!